Four weeks ago today, I was enjoying a round of golf with my father. We get together every few months and play a round. I look forward to these rounds hugely. I'm in my early 40's and dad is in his 60's. Only the good Lord knows how many more of these rounds we may have together.
I haven't had too many golf outings this fall or the summer for that matter. My young son was out of school this summer and wasn't keen on golf...so we did other things during my time off.
This fall I was preparing for hunting.
Anyway...I'm on the course with my father...third hole par 5 finds me 265 from the back of the green. I've got a newish 3 wood that I really like and haven't properly broken in. I'm feeling it for some odd reason. I begin my swing and at the begining of my downswing something pops in my right ankle (outside). I could hear it.
My instant reaction was to raise my foot up and hop around all the while cursing. My father thought I'd ruined a knee (again).
Went back to his home and iced it while watching some NCAA football. My alma mater won 51-48 in the last 5 seconds of the game with a hail Mary pass. Go Pirates.
Two days later I'm in an orthopedic surgeons office.....x-rays look good....mri shows signifcant damage. Blew out my pernious longus tendon.
Surgery went well...little over a week ago.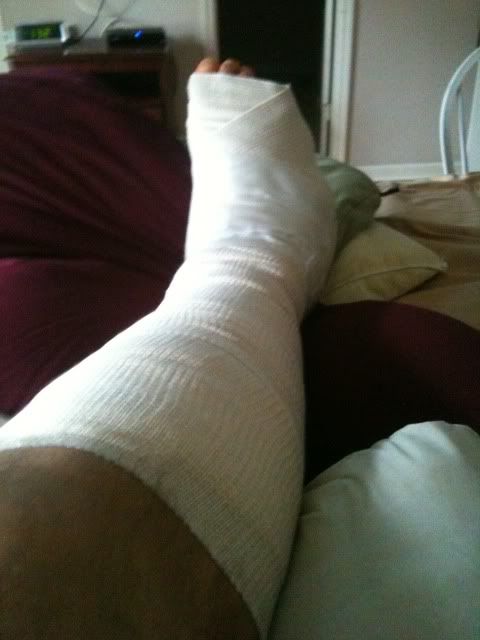 Wearing the initial splint and wrap. I go back on Oct. 11th for the stitches to be removed and a cast to be put on for a month or so.
Doctor said he couldn't reattach it to the source due to the damage but he tethered it to adjacent tendons and it should "scar in nicely". I should expect a good recovery.
This was scary as golf is something that I really enjoy and don't wish to give up for any reason.
Folks, all I can tell you is to stretch carefully before your rounds. I did way too little of this prior to our round.