A few people have asked me what I mean by "getting my hands deep" on the takeaway and/or "deep hands." I've said this a few times in a few threads, so here's how I can explain it...

Imagine standing at address with a yard stick resting along your right foot, perpendicular to your target line. Imagine the 0 end of the yard stick is positioned roughly even with your grip, and the 36 end goes behind your butt. From a down-the-line view, 0 is right and 36 is to the left, left of your butt.

"Deep" hands involves getting the hands to go towards 36, or left from the down-the-line view, quickly.

Before I get into the thinking behind this, here's an image: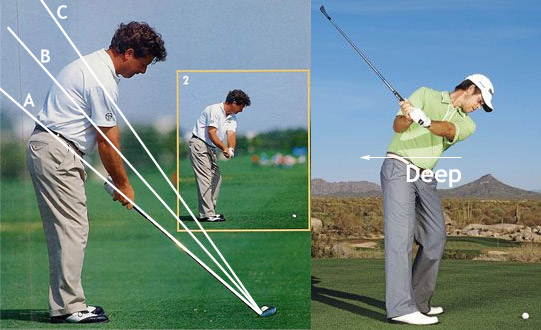 Aaron Baddeley has "deep" hands here. They're still "in front of him" (his chest is still facing us), but he's got good pressure points in his right and left armpits. If you maintain those pressure points from the takeaway and pivot about your centers, letting your right hip rotate back and up (left and up in this view), your hands will get deep.

Then we look at Ian Woosnam, who isn't a perfect example because he's shorter and thus clubs look freakishly long in his hands, but still... it'll work. I've marked three planes here.

The "A" plane is your hand plane. The B plane is your elbow plane. The C plane is your shoulder plane.

Stack-and-Tilt and one-plane instructors would say that your hands travel back on the A plane until such time as your right elbow starts to fold, at which time your hands go to the B plane to the top of the backswing.

Two-plane instructors and those who advocate a lifting move (and a corresponding "drop" move) would say that you start on the A plane, move to the B plane at about the same time as the right arm folds, and then end up lifting it up to the C plane.

But anyway, the point is this: the combination of your hands and the clubhead want to try to stay on a plane, and that plane tends to be your axis or your centers (roughly your spine, obviously, as you can't really rotate about your left clavicle or something very easily). If your hands get above the A plane too early, at the "club parallel away" (CPA) position (the point at which the club is parallel to the ground and on the takeaway) the club will likely be too far inside the hands. If you somehow manage to get your hands too deep, the club will be outside the hands at CPA position.

Note in Ian Woosnam's inset picture (#2) that his hands are still a bit "shallow" or "non-deep" and the club has already gotten well inside his hands. For Ian, it may be a function of his height, but if he had gotten his hands deeper and stayed on that A plane the club should be pretty much covering his hands at this point - the club, shaft, and his hands should all point straight at the camera.

So that's what I mean by deep. My hands tend to kind of shove away from my body instead of purely rotating back (and thus in), which leads me to roll the clubhead back with my hands/wrists/forearms. I recover pretty well from there to get into some "okay" positions, but if I don't get my hands deep I generally don't rotate my right hip up and back enough, and then I rotate it too much and don't get enough push coming down.

I hope that explains it for those who had asked.