Good move for Holly?
http://golfweek.com/news/2014/jul/11/holly-sonders-leaves-golf-channel-join-fox-sports/
Quote:
Holly Sonders, star of Golf Channel's "Morning Drive" and other shows, left the channel July 10 after turning down a new contract offer, according to sources.
Sonders is expected to take a job with Fox Sports covering golf and serving as a sideline reporter on NFL games, according to several sources. A Fox spokesman said his network has not yet hired Sonders. Other sources said it is a done deal.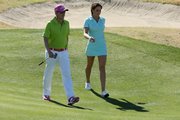 Photo by Getty Images
Jonas Blixt and Golf Channel's Holly Sonders during the second round of the Humana Challenge.
Fox is building its golf production and talent team in anticipation of airing U.S. Golf Association events beginning in 2015.
Sonders was in the midst of contract discussions with Golf Channel and "we didn't come to terms," according to a spokesman.
"We wish her the best in her future endeavors," he said, declining further comment.
Sonders joined Golf Channel's "Morning Drive" crew in January 2011 and quickly became one of the channel's biggest stars. She parlayed her popularity on the morning show into regular slots on evening instructional shows such as "Playing Lessons with the Pros" and "School of Golf."
Some future episodes of those shows already have been produced and have yet to air. But Sonders will not make any more appearances on "Morning Drive."